Business
Democrat Rep. Bowman Triggered Fire Alarm Ahead Of House Vote To Stall Shutdown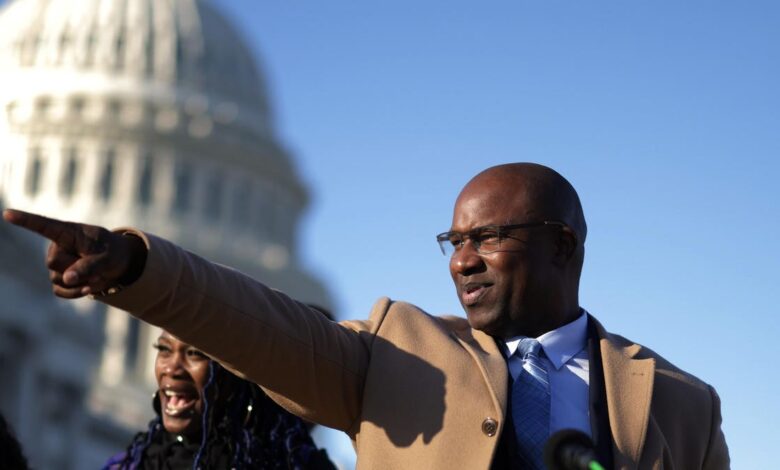 Topline
Progressive Rep. Jamaal Bowman (D-N.Y.) set off a fire alarm in the Capitol Building ahead of a high-stakes House vote on a stopgap measure to temporarily keep the federal government funded and avert a dreaded shutdown, according to multiple reports, as House Democrats complained the 11th-hour funding bill was thrown upon them with little time to thoroughly read it.
Key Facts
House Administration Committee Chair Bryan Steil (R-Wisc.) said Bowman pulled the alarm in a post on X Saturday afternoon, saying it happened in the Capitol's Cannon building, and that the progressive representative is under investigation.
Bowman—a second-term representative who has made headlines calling out far-right representatives and engaged in a screaming match with Rep. Marjorie Taylor Greene (R-Ga.) in May—has not responded to the reports (Forbes reached out to his office for comment).
A spokesperson for Bowman appeared to confirm the claim to Forbes, saying Bowman "did not realize he would trigger a building alarm" and was "rushing to make an urgent vote," adding he "regrets any confusion."
Chief Critic
House Republicans proposed the spending bill on Saturday, the latest in a slate of attempts to strike a temporary stopgap measure to avert a shutdown and give lawmakers time to pass a series of required federal budget appropriations. House Democrats had complained on Saturday, however, that the legislation was rushed, with Minority Speaker Hakeem Jeffries (D-N.Y.) saying on the House floor that "the 11th hour legislation is dropped on the American people and we're told we have 5 to 10 min to eval … and expected to trust the word of our extreme maga colleagues
This is a developing story and will be updated.
Further Reading
Marjorie Taylor Greene's Confrontation With Jamaal Bowman: Here's What Happened (Forbes)
Read the author's full story
here
Get Best News and Web Services here