Business
Welcome Visitors In Style With These Guest Bedroom Design/Decor Tips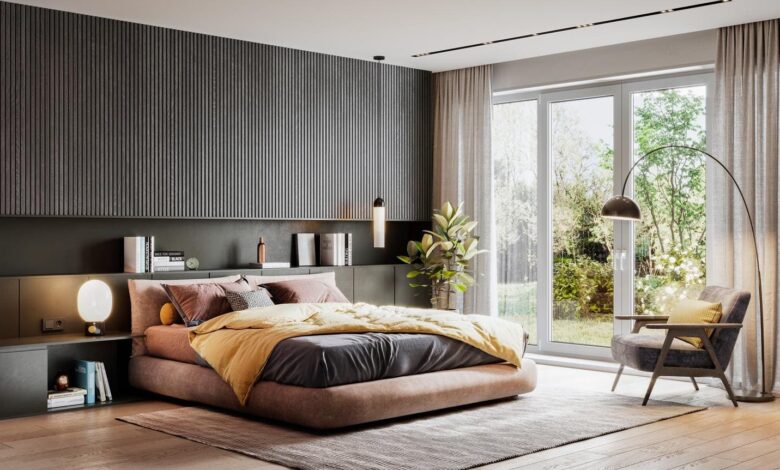 When you're hosting guests for the holidays — or any time of the year — you want to make them feel as welcome as possible. Similar to the luxury hotel bedroom experience that you create for yourself, you also want visitors to have a comfortable and memorable experience in your home.
"The bedroom should be a sanctuary, a place of repose and rest, and a place that makes people happy at the start and end of every day," says Christopher Grubb, interior designer and founder of Beverly Hills-based Arch-Interiors Design Group. Whether you're designing or decorating the guest bedroom, these are some factors to keep in mind.
Appeal To The Senses
Colors catch the eye and can alter the way your guests feel, changing their mood in an instant. "The most soothing colors to consider for a bedroom are shades of green or blue," Grubb says. In addition, he notes that wallpaper can add a great visual effect. "An intricate pattern makes a great feature wall or dramatic ceiling; or a texture, like a grass cloth, can bring a sense of comfort into the room."
Grubb also recommends flowers and candles as a great way to incorporate an attractive scent in your space. "The glow from candlelight is also warm and inviting," he says.
Make The Bed The Focal Point
The bed should always be the main consideration when designing a guest bedroom. "Whether it's a great upholstered headboard, a more contemporary built-in around the bed, a found object like an Asian gate, or an antique four poster bed, the bed should always be the focal point," Grubb says.
If you have a four-poster bed, he says one option is to add fabric to it. "It's a way to soften the harshness of the wood — or if there are wood slats on top, running fabric across, like a sheer, can create a nice cocoon effect while sleeping," Grubb explains.
The next step is to add texture and comfort with bedding choices. "I always like the look of a lofty bed, and a great comforter and lots of pillows are comfortable and inviting," Grubb says.
Eril Serbetci, co-founder and designer at Darling Spring, agrees that pillows are important in a guest room. "They're a highly personal product, yet hotels do a great job with that, so for a welcoming guest bedroom, always choose pillows from hotel selections (or those that mimic that experience), and you can never go wrong."
Declutter
Since you probably don't have guests most of the time, it's tempting to use your guest room as a place to store those extra items that you can't find a place for. However, Grubb recommends letting the room breathe by taking out unnecessary pieces. "This will make the guest room feel larger and lighter, which is instantly more welcoming."
However, if you want a larger display area without adding more furniture, he has a solution. "Installing a continuous shelf approximately 14" down or more from the ceiling around the entire room achieves this," Grubb says. "You can use it for books, collectibles, family photos, and it is another way to add an architectural element."
Provide Privacy and Practicality
Grubb also recommends using a mirror to expand your space — and give your guests a private place to assess their looks as they get dressed.
"Plush carpeting or an area rug always feels great, and a nice patterned rug can establish the entire color scheme for the room," he says. Another tip is to add a finishing window treatment. "Drapes or a valance are a nice way to frame the window with texture or pattern, and provide a finished look."
New bedside lamps are not only affordable but also add a fun accent – and Grubb says the glow at night is inviting and comforting. "Traditional lamps on each nightstand are elegant, but for a more modern room, consider hanging a pendant from the ceiling over your nightstands, or wall mounting a cool sconce."
The bedside table is another factor to consider. "We don't carry too many things when we are visiting, but our phones, watches, and personal accessories are always with us, "Serbetci says. She points to the bedside table as one of the most important items to make a guest feel important.
These are some of the items that can help to create a welcoming and comfortable guest bedroom.
Beau Walnut Floor Mirror
This stylish Beau Walnut Floor Mirror serves as a design element in the guest bedroom, making it feel more spacious. And it's also practical, providing a head-to-floor view that lets guests check their appearance in private. Surrounded by solid and veneered wood with leather straps and brass trim, the mirror includes anti-tip hardware and hanging hardware. It's available in Walnut, and Black.
Brooklinen Sateen Duvet Set
For guest bedroom sheets that feel silky-soft and have a luxurious shine, the Brooklinen Luxe Sateen Duvet Hardcore Sheet Bundle includes everything you need to create an unforgettable experience. Made of 480 thread count long-staple cotton, the set includes a sheet set, duvet cover, and four pillowcases. There are over a dozen color choices, including Graphite, Blue Tide, Warm Gray, Rose Quartz, and Cilantro, as well as several stripes and patterns.
The Article Portima Walnut C Side Table
If your guest bedroom does not have enough space on the bedside table, or you just want to provide additional options, the Article Portima Walnut C Side Table is portable and the table can be adjusted in height from 19" to 26". It can hold a laptop, drinks, and books for working, eating, or drinking in bed or while sitting in a chair. The table top is made of solid wood in walnut or oak, with a powder-coated steel base.glass also serves as a lid to cover the carafe's contents.
Bespoke Post Monti-Sonno Bedside Carafe Set
Guests may get thirsty during the night, but may not feel like stumbling to the kitchen in the dark. This Bespoke Post Sempli Monti-Sonno Bedside Carafe Set lets them keep water on the nightstand. The set is made of hand-blown, lead-free crystal, and includes a 29.25-ounce carafe and a 12-ounce glass. The glass also serves as a lid to cover the carafe's contents.
WiiM Wake-Up Light Alarm Clock
Not everyone uses their smartwatch as an alarm clock. The WiiM Wake-Up Light Alarm Clock is a multifunctional device that offers the choice of a regular alarm or a music alarm, along with sunrise wake up light. The light settings can also be customed for reading, relaxing, meditating and other activities, and there are soothing sleep noises and relaxing sounds as well. The clock is available in Polished Silver, and Sea Blue Green.
Saatva Plush 3-Piece Towel Set
Guests will enjoy this Saatva Plush 3-Piece Towel Set, which is made of long staple cotton. The towels are thick and absorbent, and have a hang tag on each end – which makes them easy to hang on hooks to dry. The towel set includes a bath towel, hand towel, and face towel, and it's available in Slate, Sand, and White, and come in a natural cotton drawstring bag.
SleepNumber Luxwarmth Down Comforter
It's easy to snuggle all night under the SleepNumber Luxwarmth Down Comforter, which is made from white down with a 100% cotton cover and corner loops (for an optional duvet cover). The 700-fill power down comforter, which is also hypoallergenic, is available in three warmths: light for warm sleepers, medium for most sleepers, or extra for chilly sleepers.
L'OR Barista System Coffee and Espresso Machine Combo
Surprise your guests with this compact L'OR Barista System Coffee and Espresso Machine Combo. It's small enough (11" H x 16" D x 7" W) to sit on a bedside table, and uses both coffee capsules and espresso capsules for a mess-free experience (used capsules are ejected into the used capsule container). With 19 bars of high pressure, the machine also creates a rich and velvety layer of crema. It has a 40-ounce water tank, heats up in 25 seconds, and is easy to clean.
UGreen Nexode 100W Magsafe Charger
Most people have several digital devices that need to be charged on a regular basis. The UGreen Nexode 100W Magsafe Charger has two 100W USB-C ports, a 22.5 W USB-A port, and 15W MagSafe wireless charging. This allows guests to charge (for example) a laptop, tablet, earbuds, and a smartphone. And the Magsafe charging has an adjustable hinge, so guests can view the phone's contents as it's charging.
Pure Parima Down Pillows
Your guests will definitely sleep well on a pair of the Pure Parima Down Pillows. Made with 16 ounces of pure white goose down (but none of those pointy quills), the medium firm pillows are lightweight and fluffy. They also have a 100% cotton cambric shell with double-stitched seams, and satin piping. Pure Parima also makes down alternative pillows with microfiber filling.
Read the author's full story
here
Get Best News and Web Services here