Cars
Ferrari Purosangue Is Even Better With A Widebody Kit and 820 HP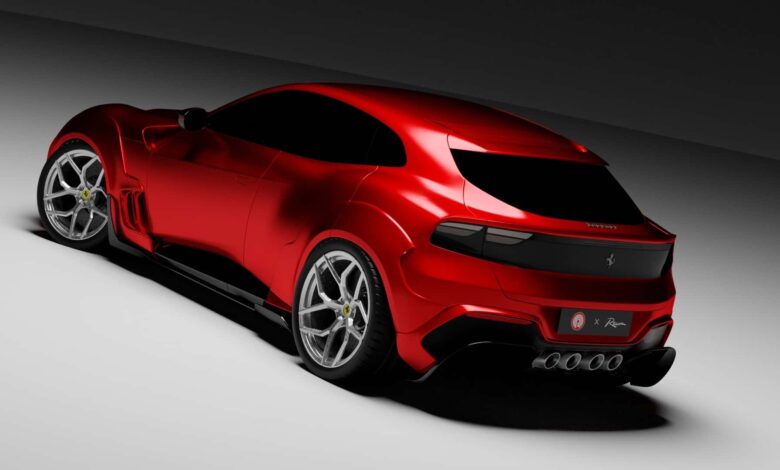 With the Purosangue, Ferrari did the unthinkable (but inevitable) by launching an SUV. While it's not the first Prancing Horse to have rear doors, the high-riding Ferrari won't be nearly as rare as the elusive 456 Venice GT. Unlike Lamborghini with its Urus dominating the sales charts, the Purosangue won't account for the majority of deliveries. This will be achieved by limiting production to only 20 percent of the factory's annual capacity.
If you're among the early adopters and are already bored with the SUV's design, Pogea Racing can give it a radical makeover. Slammed to the road, the already controversial model is transformed into a striking contraption that surely raises more than a few eyebrows among purists. It's available with 23-inch front and 24-inch rear wheels that are housed within bulging fenders with beefy extensions.
Pogea Racing is not the first aftermarket specialist to preview a customization program for the Purosangue as Carlex Design unveiled its two-tone project a few months ago. The latest wild build is more hot hatch than SUV and makes extensive use of carbon fiber for the body add-ons. At the rear, centrally mounted quad tips send a Corvette Z06 vibe and are flanked by a more aggressive diffuser.
It's not all show without any extra go. Pogea Racing says it's working on the naturally aspirated twelve-cylinder engine with several power upgrades in the offing, topped by a version with 820 horsepower. Torque is not mentioned, but one can presume it's higher than the 528 pound-feet quoted by Ferrari. We'd reckon it's likely only a matter of time before tuners will strap on turbochargers to push the V12 beyond 1,000 hp.
If you're unfamiliar with Pogea Racing, the German tuning shop specializes in modifying Alfa Romeo and Abarth models, but it also works on the occasional Ferrari. This isn't some vaporware brand since it has been in the business for a quarter of a century. While this widebody kit only exists in digital form, for now, it can become a reality if you're willing to pony up the cash.
Read the author's full story
here
Get Best News and Web Services here