News
Israeli tanks reported near hospital in embattled north Gaza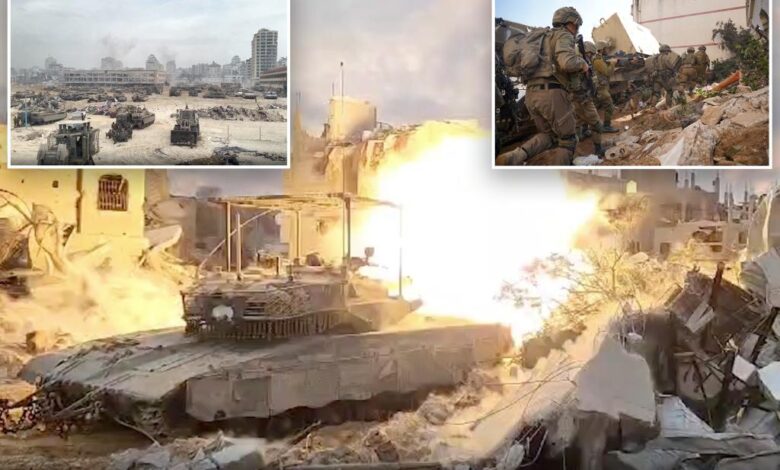 Israeli tanks were positioned around a hospital complex in north Gaza where 12 Palestinians were killed and dozens wounded, the enclave's health ministry said on Monday as fighting raged on amid indications of an impending pause in hostilities.
There was no immediate confirmation from the Israeli military of the reports from the Indonesian Hospital but the Palestinian news agency WAFA said the facility had been hit by artillery fire.
Like many other health facilities in embattled Gaza, the Indonesian Hospital, set up in 2016 with funding from Indonesian organisations, has ceased operations. But health ministry spokesman Ashraf Al-Qidra said there were about 700 people, including medical teams and wounded, inside the facility.
At the other end of the Hamas-ruled Gaza Strip, at least 14 Palestinians were killed in two Israeli air strikes on houses in the town of Rafah, near the border with Egypt, health officials said.
The Israeli military issued a statement with video of air strikes and troops going house-to-house, saying it killed three Hamas company commanders and a squad of Palestinian fighters, without giving specific locations.
Despite continued fighting between Hamas militants and Israeli forces pressing an offensive, U.S. and Israeli officials said a deal to free some of the hostages held in the Palestinian enclave was edging closer.
Some aid has been getting in through the Rafah commercial crossing with Egypt where 40 trucks containing equipment for the Emirati field hospital was expected later, a statement by Gaza's General Authority for Crossings and Borders.
About 240 hostages were taken during a deadly cross-border rampage into Israel by Hamas militants on Oct. 7, which prompted Israel to invade the tiny Palestinian territory to wipe out the Islamist movement after several inconclusive wars since 2007.
Around 1,200 Israelis, mostly civilians, were killed in the Hamas assault, according to Israeli tallies, the deadliest day in the country's 75-year history.
Since then, Gaza's Hamas-run government said at least 13,000 Palestinians have been killed, including at least 5,500 children, by unrelenting Israeli bombardment and air strikes.
Israeli tanks and troops stormed into Gaza late last month and have since seized wide areas of the north and northwest and east around Gaza City, the Israeli military says.
But Hamas and local witnesses say militants are waging guerrilla-style warfare in pockets of the congested, urbanised north, including parts of Gaza City and the sprawling Jabalia and Beach refugee camps.
The armed wing of the militant group Islamic Jihad, an ally of Hamas, said its fighters attacked seven Israeli military vehicles during clashes in the northern areas of Beit Hanoun, Beit Lahia, and Al-Saftawi and west of Jabalia.
In Beijing, Arab and Muslim ministers joined international calls for an immediate ceasefire in Gaza, as their delegation visited major world capitals to push for an end to hostilities and to allow humanitarian aid deliveries to stricken civilians.
Israel said Yemen's Iran-backed Houthis seized a British-owned and Japanese-operated cargo ship in the southern Red Sea, describing the incident as an "Iranian act of terrorism" with consequences for international maritime security.
Houthi forces have been launching long-range missile and drones at Israel in solidarity with Hamas.
HOPEFUL FOR DEAL
Even as fighting continued on the ground in Gaza, Israel's ambassador to the United States, Michael Herzog, said in an interview on ABC's "This Week" Israel was hopeful a significant number of hostages could be released by Hamas "in coming days."
On Sunday, Qatari Prime Minister Sheikh Mohammed Bin Abdulrahman al-Thani told a press conference in Doha that the main obstacles to a deal were now "very minor," with mainly "practical and logistical" issues remaining.
A White House official said the "very complicated, very sensitive" negotiations were making progress.
They coincided with Israel preparing to expand its offensive against Hamas to Gaza's southern half, signalled by increasing air strikes on targets Israel sees as lairs of armed militants.
However, Israel's main ally the United States cautioned it on Sunday not to embark on combat operations in the south until military planners have taken into account the safety of Palestinian civilians.
Gaza's traumatised population has been on the move since the start of the war, sheltering in hospitals or trudging from the north to the south and, in some cases, back again, in desperate efforts to stay out of the line of fire.
The civilian death toll in Gaza is "staggering and unacceptable," U.N. Secretary General Antonio Guterres said, appealing again on Sunday for an immediate humanitarian truce.
Witnesses reported bouts of heavy fighting between Hamas gunmen and Israeli forces trying to advance into Jabalia, home to 100,000 people and, according to Israel, a significant militant stronghold.
Repeated Israeli bombardment of Jabalia, an urban extension of Gaza City that grew out of a camp for Palestinian refugees from the 1948 Israeli-Arab war, has killed scores of civilians, Palestinian medics say.
Via social media in Arabic, Israel's military on Sunday urged residents of several Jabalia neighbourhoods to evacuate south "to preserve your safety" and to that end said it would pause military action from 10 a.m. to 2 p.m.
After the "pause" expired, 11 Palestinians in Jabalia were killed by an Israeli air strike on a house, the enclave's health ministry said.
Palestinians say Israel's repeated bombardment of southern Gaza renders Israeli promises of safety absurd.
A total of 64 Israeli soldiers have died in the conflict, according to the latest army count.
Read the author's full story
here
Get Best News and Web Services here