Sports
Ex-Yankees reliever Zack Britton retiring after 12-year career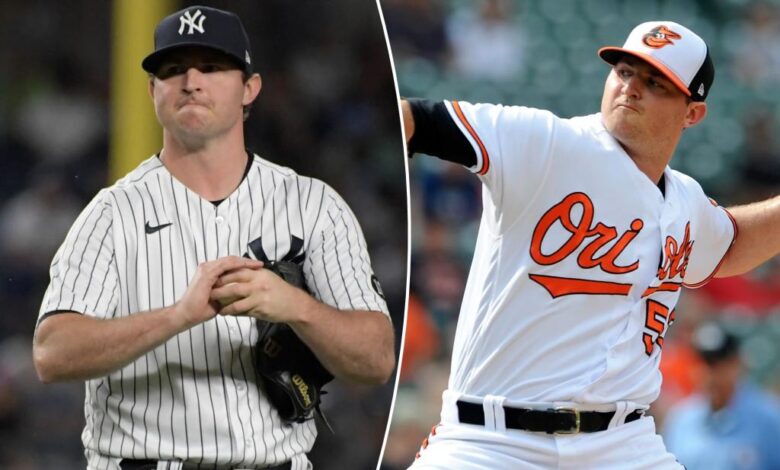 Ex-Yankees and Orioles reliever Zack Britton is retiring, the southpaw told The Athletic.
Britton, 35, did not play this past season, and finished his 12-year career – all in the AL East with the Yankees and Orioles – with a 3.13 ERA and 154 saves.
He last appeared in a game Sept. 30, 2022 for the Yankees, ironically against the Orioles.
Britton exited that game early after throwing a wild pitch.
The 2016 saves leader told the outlet he's retiring to spend more time with his family, which includes his four children and wife, Courtney.
"My last outing was against the Orioles. I threw a ball to the backstop as my last pitch; I think about that and it sucks," Britton said. "It might not have been perfect from a career standpoint or going out on a high note, but you don't always get to pick. My gut was telling me it was time to see what life was like on the other side."
Britton had a fantastic career after transitioning from a starter to a reliever, but it's the one game he did not pitch in that perhaps fans will remember the most.
After posting a 0.54 ERA in the 2016 season and leading MLB with 47 saves, Britton did not appear in the Orioles' 5-2 loss to the Blue Jays in 11 innings in the Wild Card Game in Toronto.
Then-Orioles manager Buck Showalter used six other pitchers in relief ahead of Britton, with Ubaldo Jimenez serving up the walk-off three-run homer to Edwin Encarnacion.
"I don't think Buck's (managing career) should be defined by me not pitching in a game," Britton said.
The Yankees acquired Britton two years later, and he posted a 2.75 ERA across five seasons while serving as the setup man to Arold Chapman with the Bronx Bombers.
"Playing for the Yankees was special, being able to take my family to All-Star Games was really cool, too," Britton said. "But when I look back at my career, I think what I'm most proud of is that offseason (in 2015) and how I handled a time that was make-or-break for me."
His last great season came in the COVID-shortened 2020 when the 2006 third-round draft pick produced a 1.89 ERA spanning 20 outings.
The 2021 season featured Britton battling injuries while producing a 5.89 ERA, and he underwent Tommy John surgery that September.
He said the lowest moment of his career came that campaign when he allowed a walk-off homer in the Field of Dreams game against the White Sox.
"I remember smashing my iPad," Britton told The Athletic. "I wasn't pitching well, I knew I needed Tommy John and you just want to step up for your team. Buck used to say, 'You are never defined by your worst moment,' and I thought about that the next day. If that's my worst moment in the big leagues, I had a pretty damn good career."
Britton returned for three games in 2022 but struggled with his command, walking six batters while recording only two outs.
He appreciated his time in pinstripes.
"Putting on that uniform and walking into the clubhouse, the history of it hits you," Britton said of playing for the Yankees. "The whole experience of being a Yankee is impressive. You are playing for one of the most recognized sports teams in the world; the way they treat you, and the things you get — I wouldn't trade that experience for the world. I wish I had won a World Series there. I wish I hadn't been injured as much as I had. That was special."
The lefty worked out for teams during spring training and had a few offers, but "his heart wasn't 100 percent into it," and a talk with his agent, Scott Boras, convinced him to call it a career.
He finished his career as a two-time All-Star, and finished fourth in the Cy Young and 11th in MVP voting during his 2016 season.
"Scott said, 'You will never regret spending more time with your kids.' And that really hit home," Britton said. "Coming from him, I was like, 'Wow, OK, maybe the things I'm feeling are good things. I've done everything I wanted to do in the game, other than win a World Series. I played a lot longer than I thought. A lot of it is luck, let's be honest.
"There's a lot of talented guys who don't get to play for 12 years. So I'm very grateful for that. It was the journey, honestly, that was special. I was never great at being good at two things and now it's time to be all-in on my family."
Read the author's full story
here
Get Best News and Web Services here