Sports
Travis Kelce 'not running away from' Taylor Swift media circus as romance heats up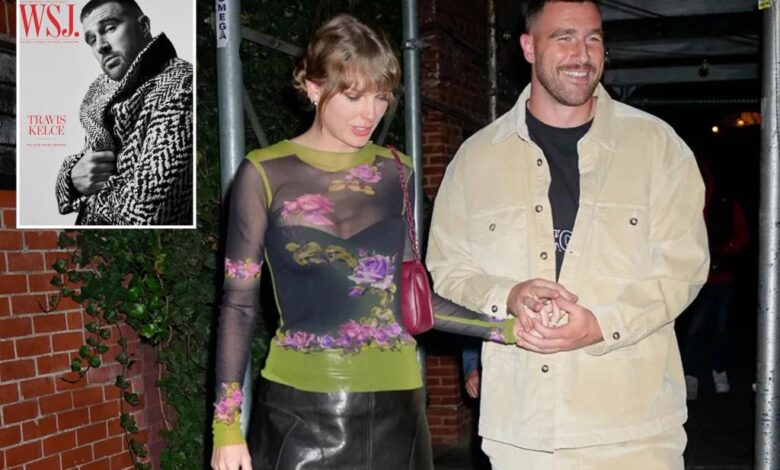 Travis Kelce isn't running scared from the added attention that comes with being Taylor Swift's boyfriend.
The Chiefs tight end — who is experiencing a bunch of firsts, such as paparazzi outside his home in a quiet Kansas City neighborhood — explained how the singer inspired him to embrace it and enjoy life.
"Obviously I've never dated anyone with that kind of aura about them," Kelce said in a new interview with WSJ. Magazine. "I've never dealt with it.
"But at the same time, I'm not running away from any of it.
"The scrutiny she gets, how much she has a magnifying glass on her, every single day, paparazzi outside her house, outside every restaurant she goes to, after every flight she gets off, and she's just living, enjoying life.
"When she acts like that I better not be the one acting all strange."
Kelce even deals with drones buzzing over his home, which is north of downtown, according to WSJ Magazine.
"It's stressful, more than he lets on," one confidante said.
Kelce, who's known for his bubbly personality, has been more guarded with media since being first linked to Swift in September.
"That was the biggest thing to me: make sure I don't say anything that would push Taylor away," the All-Pro NFLer said.
Meanwhile, "his core group" was just as cautious about the romance.
"Everybody around me telling me: 'Don't f— this up!'" Kelce recalled. 
"And me sitting here saying: 'Yeah — got it."
Those around the 34-year-old NFL star can see how happy he is with Swift.
"I can tell you this," his mom Donna Kelce said. "He's happier than I've seen him in a long time…. God bless him, he shot for the stars!"
Elsewhere in the interview, Kelce gushed over Swift and explained how the two met after he attempted to give her a friendship bracelet while at her concert in July.
When he "got blocked" from meeting the 12-time Grammy-winner in Kansas City, he said he "played cupid" and wound up receiving a text from Swift soon after.
And the rest is history.
"I've never been a man of words," Kelce said. "Being around her, seeing how smart Taylor is, has been f—ing mind-blowing. I'm learning every day."
He added that Swift is "hilarious and a "genius" who "writes catchy jingles."
Kelce and Swift are reportedly planning to spend the holidays together with their families.
They confirmed their relationship in October, when they were seen holding hands on numerous occasions while out in New York City together.
Read the author's full story
here
Get Best News and Web Services here