Business
Dog-Centric Real Estate Among Trends To Watch In 2023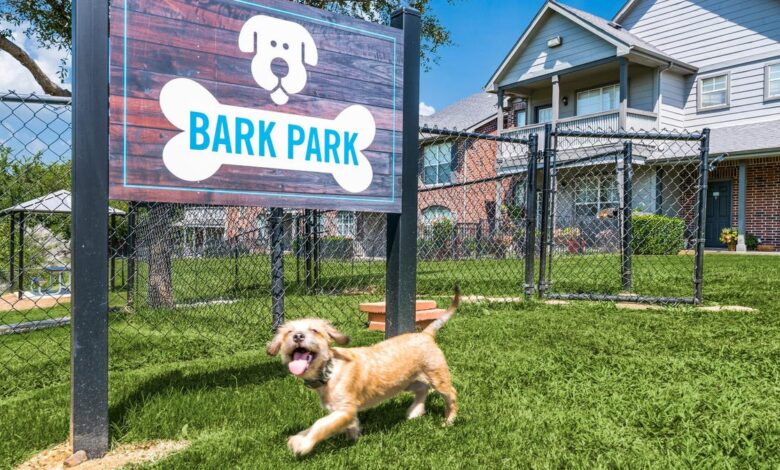 During the pandemic, Americans not only hunkered down, they hunkered down with the new pets they'd adopted to share their lonely exile until the virus had been quelled. According to the American Society for the Prevention of Cruelty to Animals, about one in five U.S. households – approximately 2.3 million – adopted a "pandemic pet."
Almost three years after the first calls to shelter in place were sounded, the term "dog-centric" is emerging to describe buildings that aren't just pet-friendly but full-on equipped to handle the influx of canines accompanying new residents.
As wage earners return to offices full-time or on a several-times-a-week basis — many having recognized that separation anxiety as a very real prospect for both themselves and their pets — they're hunting for residential settings that furnish a high level of support for their furry friends. Across a number of major metros, developers and owners have begun to answer that call.
Dogs' needs
More than half of all Americans in their 30s are dog owners, and that status dramatically impacts their choice of housing. So says Steve Bardack, founder and principal at Fidus Pet Concierge Communities. "In fact, more than 40% of Millennials who have not yet purchased a home say a property's ability to meet the needs of their dogs would play a key role in their decision to buy it," he adds.
Bardack's company represents one of the leading examples of the trend. The first and only pet-centric luxury apartments in the Dallas-Fort Worth Metroplex, the garden-style rental properties cater to personable pups of all sizes and breeds with distinctive in-unit features like dog doors, secure private yards, pet cameras and treat dispensers.
Amenities found throughout the properties include walking trails and dog parks, while services include on-premise dog daycare, boarding, grooming, dog walking and in-unit feeding. Whenever traveling on business or working late, residents can access services by tapping the Fidus mobile app. "We've identified all the practical and emotional pain points experienced by dog owners who live in apartment buildings, including the struggles associated with caring for pets as [their owners] return to the office," Bardack says. "Not only have we solved these pain points, but our communities can also be a solution for companies looking to relocate new talent with dogs in tow."
Dog's Day
Also rolling out the carpet for dog owners and their four-legged friends is The Park, a 185-acre live-work-play campus developed by The Connell Company.
The Park serves up a hospitality-focused counterpoint to the conventional retail, restaurant and office environments of Berkeley Heights N.J., a municipality tucked into the north-central part of the Garden State. The Connell Company plans to include an assortment of dog-friendly amenities in the next phase of The Park's development.
Shane Connell, executive vice president at The Connell Company, observes that in order to convince workers to return, office building tenants must meet the emerging needs of their employees, and many of those workers are now used to not just living but working with their dogs by their sides. "As part of The Park's next phase, we're ensuring the campus is a lifestyle destination for its future residents, tenants and the surrounding communities, and this includes catering to the needs of pet owners," he reports, adding features will include doggy day care and a dog park and social club, with access to a dog-friendly eatery, pub and outdoor work spaces.
It's been said every dog has its day. If dog-centric housing and Fido-focused mixed-use begin to abound, dog owners everywhere should have theirs as well.
Read the full article
here