Economy
'I work just 4 hours a day': This 29-year-old's side hustle brings in $2 million a year—a look at her typical day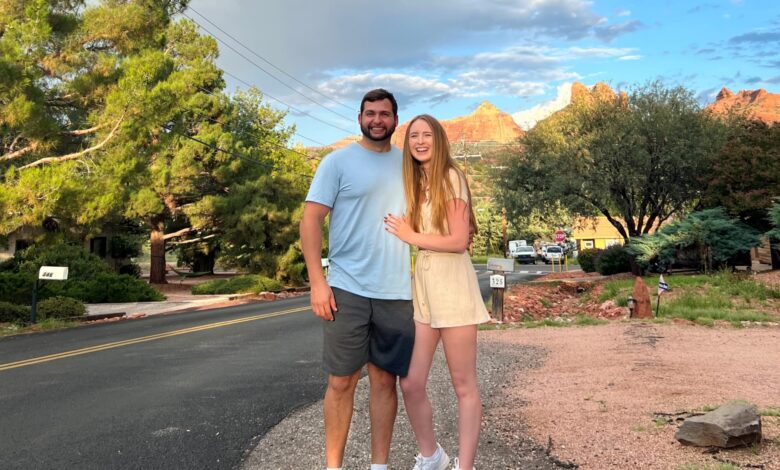 Teaching Microsoft Excel on TikTok was my ticket out of corporate America. I posted the first video on my account, Miss Excel, in June 2020.
At the time, I was living at my parents house and buried in student debt. But within a few weeks, the video went viral and I gained 100,000 followers.
That November, I started selling an online Excel course on my website, and just two months later, my passive income earnings were more than my monthly paycheck as a full-time management consultant.
I quit my job in January 2021 to become a full-time entrepreneur, and created nine more courses that teach different career skills. And in October 2021, I crossed a major milestone: I made $100,000 in sales — in just one day.
Today, at 29, I've built Miss Excel into a business that generates more than $2 million a year.
My boyfriend, Mike, quit his corporate sales job and became my chief financial officer and vice president of sales in April 2022.
The best part is that I work just four hours a day. Here's a look at my typical day:
I prioritize personal wellness in the morning
Meditating in the morning keeps me calm and centered, so I start my day with a virtual meditation group on Choices + Outcomes at 7:00 a.m. Mike, my parents and some members of the Miss Excel community all join in.
After meditating, Mike and I make breakfast together, usually oven-baked oatmeal, and plot the day over coffee on our balcony. It is one of my favorite activities.
Later, my personal trainer comes to the house, or I do hot yoga at a local studio. Mike and I meet back up after for a quick swim and sauna session at home before getting ready for the workday.
I work three to four hours a day
I start working around noon. My house is equipped with fast Wi-Fi, an office and a content recording studio, which makes it an incredible place to work remotely.
I organize my days based on the tasks I am doing, so I am not constantly flipping back and forth from a creative project to a more analysis-based activity.
On Mondays, for example, I do more creative activities like setting goals and brainstorming business strategies and content ideas. I'm always thinking about how I can grow my business and make more of an impact.
On Tuesdays, I crank through a to-do list with tasks like filming content, editing social media posts and hosting 60-minute Excel trainings for my corporate partners.
I make sure to schedule breaks in between tasks to reset myself. This helps me be more efficient and work only 15 to 20 hours per week.
I spend my evenings learning and doing what I love
By 3:00 p.m., Mike and I like to be off-roading on our four-wheeler or hike local trails with friends. Being in nature keeps me grounded, calm and creative, so it's a priority for me.
After spending quality time outdoors, Mike and I eat dinner. We love trying new recipes at home or going out to local restaurants. One of our favorite spots right now is an Italian cafe in Sedona called Vespa.
Then, we'll either read or watch documentaries. Some of my favorite topics are mindset, meditation, energetics and quantum physics. I'm currently reading "Close Your Eyes and Get Free" by Grace Smith.
We always try to be in bed by 9:30 p.m. so we can be well-rested for meditation the next day.
My business has helped me live my dream life
Mike and I have the best time working on Miss Excel and traveling the world together. We've taken seven trips so far this year.
In March 2022, I bought my first house with the money I made from Miss Excel. My dream home in Sedona, Arizona is complete with 270-degree views of the Red Rock mountains.
Miss Excel has also made it possible for me to support the people in my life. I always wanted to help my mom retire early, and this year, with my financial support, she was able to quit her medical receptionist job.
If you are on the fence about starting your dream side hustle, I encourage you to take the leap. It can be scary to put yourself out there, but you'll never know until you try.
Kat Norton teaches Microsoft Excel to individuals, businesses and educational institutions. Since launching Miss Excel in 2020, she has grown her TikTok and Instagram audience to over 1 million followers.
Don't miss:
Read the full article
here
Get Best News and Web Services here