United States
Multiple people dead and more than 1M in the dark as winter storm brings bitter cold to much of the U.S.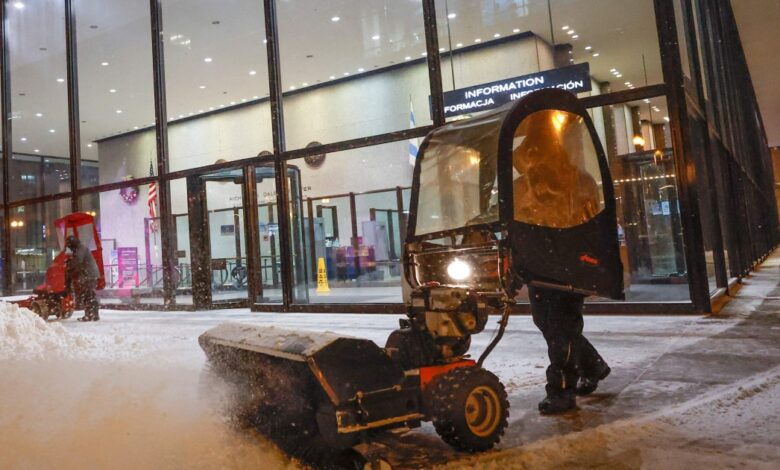 Death toll in winter storm rises to 17
Authorities have reported four additional weather-related deaths, bringing the number of people who have died in the winter storm to 17.
The four deaths occurred in Kansas and Nebraska, and were all auto-related, officials have said.
Nebraska State Patrol confirmed one weather-related death. Additional details have not been released. A spokesperson for the agency said it has responded to over 600 weather-related incidents.
Kansas Highway Patrol said Friday that three fatal crashes occurred Wednesday and were all thought to be weather-related.
In Republic County, a man died after his car was struck by another vehicle that lost control and jackknifed. His car was pushed off the road and into a tree. He was identified as 60-year-old Fred Mikesell of Scandia, Kansas, officials said.
The driver of the other vehicle was uninjured, according to Highway Patrol.
Zachary Bealer, 33, of Kansas City, Missouri, died after he lost control of his truck and spun across the median of Interstate 70 in Geary County. His truck was then hit by two other vehicles and came to rest 80 feet down an embankment, Highway Patrol said.
No injuries were reported among the people in the two other vehicles.
Grant Lysell-Alkire, 21, of Lindsborg, Kansas, died after the SUV he was a passenger in went into a ditch on Interstate 135 in Saline County and overturned. The 16-year-old driver had a minor injury, according to Highway Patrol.
Deaths have also been reported in Oklahoma, Kentucky, Missouri, Tennessee, Wisconsin and Ohio.
New York governor deploys National Guard to Erie County amid blizzard
New York Gov. Kathy Hochul said late Friday she was deploying 54 members of the National Guard to assist residents amid the winter storm and ferocious blizzard that has hit the region.
The Guard members would assist Erie County residents, especially those who have emergency medical appointments and need help traveling, Hochul said in a statement.
They were expected on the ground "in a matter of hours," the statement said.
"I want to assure New Yorkers that all of our state resources are deployed to help with storm recovery efforts, and we are coordinating closely with local officials across the state. Remember: stay off the roads and take precautions to stay safe in your home." 
Erie County, and the county seat of Buffalo, have been experiencing blizzard conditions and lake-effect snow with the winter storm that have reduced visibility to zero.
The area has also been subjected to bitter cold, with wind chills of minus 10 to minus 30 degrees, and gusts of up to 65 mph downwind of Lake Erie, according to the National Weather Service in Buffalo.
Driving bans are in effect for Erie County, as well as Niagara, Genesee and Orleans counties, and the National Weather Service has issued a blizzard warning for those counties and others. It is set to expire at 7 a.m. Sunday.
Total snow accumulations of 4 to 5 across the Buffalo area and 1 to 3 feet in surrounding areas, according to the weather service.
"Travel will be impossible in the lake effect snow band. Areas of blowing snow will produce zero visibility," the weather service said. "Very strong winds will cause extensive tree damage and power outages."
About 25,500 people in Erie County were without power early Saturday, according to outage tracking site PowerOutage.us. Other surrounding counties are also experiencing outages, according to the site.
More than 10,000 flights delayed, 5,700 delayed amid winter storm
Thousands of people were faced with flight delays and cancellations Friday as the winter storm blasted the country.
About 10,400 flights within, into or out of the U.S. were delayed Friday and an additional 5,753 were canceled, according to flight tracking website FlightAware.com.
The site showed 1,047 flights already canceled for Christmas Eve.
Hundreds of the delays and cancellations were for flights departing from or arriving at Seattle-Tacoma International Airport, according to FlightAware. All three of the airport's runways were closed Friday morning because of freezing rain and temperatures.
By 3:40 p.m., the airport said it had reopened two of the runways. On Friday night it said it expected to anticipate returning to "near normal" operations on Saturday.
Flights through Chicago O'Hare International Airport, and Denver International Airport and LaGuardia Airport also accounted for several hundred delays and cancellations, according to FlightAware.
A 79 mph wind gust hit the Buffalo area, meteorologist says
The strongest wind gust to slam a populated area Friday was recorded just south of Buffalo, where a blast of frigid air was clocked at 79 mph, a National Weather Service meteorologist said.
The gust was recorded just after 10 a.m., said meteorologist Marc Chenard.
A gust of 72 mph also hit the Cleveland area Friday, he said. The strongest wind blast overall — 151 mph — was recorded atop Mt. Washington in New Hampshire, one of the tallest peaks east of the Mississippi, he said.
Winds blowing off the water or high in the mountains tend to be the strongest because there's less friction to slow them down, he said.
Service interruptions taking place in Kentucky where extreme cold is straining power grid
The extreme cold is "straining the regional power grid," resulting in outages, Kentucky Gov. Andy Beshear said Friday night.
Louisville Gas & Electric and KU said they were performing "service interruptions in intervals" across the areas it serves in an attempt to "minimize extended impacts."
The utility said it expected the outages would last about 30 minutes.
Residents were asked to turn down their thermostats and turn off unnecessary lights, including Christmas lights, to help conserve energy.
An outage map showed 3,908 customers without power shortly after 11 p.m. It wasn't immediately clear if the outages were part of the interruptions.
Temperatures were expected to be between 0 and 5 degrees Friday night with a wind chill as low as minus 24, according to the National Weather Service office in Louisville.
It was below zero in Denver for more than 41 hours, weather officials say
Denver recorded its lowest maximum temperature ever and saw just over 41 consecutive hours of sub-zero temperatures during the winter storm, the National Weather Service said Friday.
The temperature of minus 6 was recorded Thursday, the agency said.
The below-zero temperatures stretched from Wednesday at 5:34 p.m. to Friday at 10:50 a.m. and included a wind chill reading of minus 43, the agency said.
The city also saw its third largest temperature change in a single day on record, falling from 51 degrees on Wednesday to minus 10.
Runway closed, flights canceled at Washington's Bellingham International Airport
All commercial flights were canceled Friday at Washington state's Bellingham International Airport and the runway was closed due to freezing rain.
The Port of Bellingham said at 4:57 p.m. local time that crews were working to reopen the runway as soon as possible.
4 dead in pileup with at least 46 vehicles in Ohio, authorities say
Four people died and multiple others were injured in a massive car crash involving at least 46 vehicles, the Ohio State Highway Patrol said Friday.
The crash occurred in the eastbound lanes on the Ohio Turnpike in Erie County. Both directions of a stretch of the turnpike remained closed at 9:10 p.m., at least seven hours after the crash.
Fifteen commercial vehicles were being cleared from the turnpike late Friday, and "white-out conditions persist," the agency said.
Read the full story here.
More than 1.1 million homes and businesses are in the dark
More than 1.1 million homes and businesses were without power across the country on Friday night, a slight improvement from earlier in the day, when 1.4 million customers were in the dark, according to poweroutage.us.
Maine led the country, with 257,332 outages, according to the site. There were nearly 110,000 outages in New Hampshire and roughly 92,000 in New York.
From Michigan to North Carolina, more than a dozen other states hit by a winter storm and plummeting temperatures saw significant outages, according to the site.
Four people have died in weather-related car accidents in Ohio, governor says
Four people have died in weather-related traffic crashes in Ohio as a winter storm sweeps across the country, Gov. Mike DeWine said Friday.
"The road conditions continue to be very dangerous across the state, with white outs and extremely cold temperatures continuing," DeWine said in a statement.
Many more people have been injured, he said, urging people to stay home and remain vigilant.
Additional details about the deaths were not immediately available.
The fatal car accidents bring the total number of fatalities linked to the storm to 13, with deaths also reported in Kentucky, Oklahoma, Wisconsin and Missouri and Tennessee. 
Man's death in Tennessee appears to be weather-related, officials say
A man was found dead Friday morning in Memphis, Tennessee, and preliminary information indicates the death was related to the weather.
So far, there have been nine fatalities across the U.S. since a winter storm sent temperatures plunging across much of the nation. Kentucky and Oklahoma each recorded three deaths. Wisconsin and Missouri each reported one.
While details on the death in Memphis were not released, a police spokesperson said there were no signs of foul play.
Tennessee authorities are asking residents to conserve power after calling earlier for rolling blackouts
The Tennessee Valley Authority, which oversees electricity in the state, is has asked customers to conserve power after rescinding an earlier order directing electric companies to conduct rolling blackouts to lessen the state's total electrical load by 5% amid freezing temperatures. 
Power providers had been ordered to perform rolling 10- to 15-minute blackouts to stabilize the power grid around 9:30 a.m., Doug McGowan, president of Memphis Light, Gas and Water, said Friday afternoon. 
McGowan noted that while it was common for cities to decrease power loads in inclement weather, it was the "the first time we have ever had to do that here in recent history, and at least in the last 40 to 50 years."
Several Tennesseans began experiencing blackouts before the order was rescinded shortly before noon. 
"Anybody whose power was terminated or purposely cut off because of the step 50 alert, we apologize for the lack of heads up on that but we really didn't get any notice or power should be restored," McGowan said Friday afternoon. "I do want to say that it is still a very tenuous situation across the entire south with this deep freeze. And so what I am asking everyone to do is to voluntarily reduce your load."
McGowan added power will be restored to all customers and "there will not be any rolling blackouts for the foreseeable future."
Memphis officials added that there are still about 13,000 customers who will be experiencing an outage because of the winter storm. 
Temperatures in Tennessee have dipped to below freezing.
Confirmed weather-related death toll increases to 8
Four additional weather-related deaths were reported nationwide — one in Kentucky and three in Oklahoma. That brings the total number to eight.
Two people in Kentucky died in car crashes. The other fatality was a transient person in Louisville, Gov. Andy Beshear said.
In Oklahoma, three separate crashes on Thursday left three people dead. Two of the crashes happened as winds blew the drifting snow, authorities said. Details regarding the third crash were not immediately available. Investigators are still trying to determine the cause of all three collisions.
Earlier on Friday, it was reported that one person was killed in Missouri after a driver lost control on the icy road, went down an embankment and over a cement wall before landing upside down in a creek. The driver was pronounced dead at the hospital.
In Wisconsin, one person died after authorities said the driver of a GMC Sierra rear-ended a car that was traveling at a slow speed because of another accident. The pickup truck left the roadway and hit a tractor-trailer unit parked on the shoulder of the road, police said.
Photo: Rescue workers recover minivan from frozen creek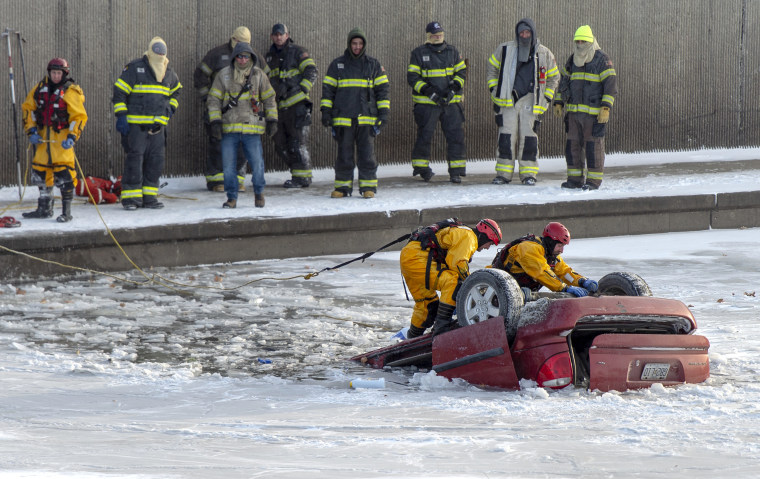 One person killed, multiple others injured in 50-car crash in Ohio
One person died and multiple others were injured in a crash involving 50 vehicles, the Ohio State Highway Patrol said Friday.
The crash occurred in the eastbound lanes on the Ohio Turnpike. Both directions were closed as troopers directed vehicles away from the area. Photos showed a black pickup truck on top of a massive pileup. Other images showed a mangled semitruck.
Click here to read more.
Fourth nationwide weather-related fatality is confirmed in Wisconsin
The confirmed death toll from the winter storm has increased to four after a driver in Wisconsin hit a tractor-trailer, authorities said Friday.
The unidentified driver apparently failed to "sufficiently slow down," rear-ended a slower-moving car, swerved off the road and hit a tractor-trailer parked on the shoulder, according to the Wisconsin Department of Transportation. 
Authorities confirmed that "inclement weather did contribute to the crash," which happened in Jackson County, in western Wisconsin.
State troopers were working on clearing another crash scene and as passing motorists were slowing for that crash, the second occurred, officials said. 
Extreme weather has already killed three people, two in Kentucky and one in Missouri, according to authorities.
One person died in a car accident in western Kentucky, and another died in Louisville. In Kansas City, Missouri, a driver died Thursday after apparently losing control of the wheel on icy roads and landing in a creek, police said.
Buffalo mayor says 'people can feel their homes moving'
Buffalo airport closes because of 'hazardous weather conditions'
Travelers expecting to leave from Buffalo Airport Airfield in New York on Friday evening will have to make other arrangements. The airport tweeted Friday afternoon that it closed its doors and canceled all evening flights because of "hazardous weather conditions."
Passengers are encouraged to check with their airline for flight status.
'Zero visibility' causes a New York county to pull plows off road
Officials in Erie County, New York, pulled plow trucks off roads Friday afternoon as weather conditions and visibility worsened.
"Our Erie County Department of Public Works has taken trucks off the road due to zero visibility," Mark Poloncarz, a county executive, said in tweet.
Earlier in the day, the county issued a travel ban because of hazardous road conditions.
"A Travel/Driving Ban is in effect. Unless you are an emergency responder/personnel there is NO reason you to be out driving. It is dangerous!"
Power outages continue to increase across the U.S.
More than 1.4 million people across the U.S. were in the dark Friday afternoon, according to poweroutage.us.
That's up from the 1,074,899 outages that were reported Friday morning.
North Carolina leads the country, with 187,303 outages. Virginia is not far behind. There were 145,767 outages in that state. Tennessee rounded out the top three, with 143,640 outages.
Storm causes multiple runways at Seattle airport to close
Multiple runways at Seattle–Tacoma International Airport are closed as winter weather grounded flights, Alaska Airlines announced Friday afternoon. All Alaska Airlines and Horizon Air flights into and out of Portland and Seattle have been canceled until at least noon local time.
The airport said that it is operating under a limited capacity because of the weather.
More than 270 flights have been canceled since midnight, Alaska Airlines said, with more cancellations and delays expected throughout the day.
"Due to very full flights over the next several days, it is likely to take multiple days to accommodate guests who need new flights," the airline said. "Our contact centers are experiencing long hold times as they try to help thousands of guests, and we're working around the clock to reunite guests with their bags."
The airline suggested that travelers "reassess their travel plans due to limited availability."
Maine airport experiencing power outage
Portland International Jetport in Maine said it is experiencing an airport-wide power outage and can not "process flights in the terminal."
The airport said in updates Friday that two flights had been diverted due to the outage, and it suspended terminal operations. Airlines are working to reconnect travelers to their luggage.
Video shows heavy snow blanket Buffalo, New York
Heavy snow blanketed Buffalo, New York, Friday morning amid a massive winter storm. Video posted on Twitter showed blizzard-like conditions and tree branches swaying in the strong winds.
Forecasters said wind gusts of 65 to 75 mph should be expected until early Saturday morning. Periods of heavy snow could dump up to 4 feet from Friday morning until around 4 a.m. Saturday. Residents could also see wind chills between zero to minus 10.
N.Y. Attorney General Letitia James warns against price gouging
New York Attorney General Letitia James warned against price gouging and told residents of the state to contact her office immediately if they believe they are a victim of it.
"Charging excessive prices for essential products during emergencies is wrong, and it is illegal," James said in a news release Friday. "This dangerous winter storm will impact communities throughout New York state, and I encourage everyone to stay warm, safe, and vigilant against price gouging."
The state's statute prohibits businesses and retailers from raising the price of essential goods and services such as gasoline, food, water, hotel accommodations and transportation.
Weather-related deaths confirmed in Kentucky and Missouri
The extreme weather has killed at least three people, including two in Kentucky and one in Missouri, according to authorities.
One person was killed in a car accident in western Kentucky and another person, who Gov. Andy Beshear described as housing-insecure, was killed in Louisville. The wind chill in Kentucky could dip as low as negative 20 degrees Friday night, the governor said at a press conference Friday.
"Stay inside. Stay off the roads. The last-second shopping is not worth it if it would cost you your life," Beshear said.
In Kansas City, Missouri, a driver was killed Thursday after apparently losing control of the wheel on icy roads and landing in a creek, police said.
The driver's van skidded and "went down the embankment, over the cement retaining wall and landed upside down, submerged in Brush Creek," Kansas City police said in a report. Emergency personnel rescued the driver, who was taken to the hospital and later died, police said. There were no passengers in the car.
'Stay off the roads': Travel ban issued for upstate New York county
Officials in Erie County, New York, issued a travel ban Friday morning as strong winds and the winter weather caused road conditions to deteriorate rapidly.
"Only Emergency Personnel and those previously authorized for emergency travel can drive. Whiteout conditions exist in all of Erie County," Mark Poloncarz, a county executive, said in a tweet. "The Blizzard is here. Please be safe."
The ban went into effect at 9:30 a.m. ET.
Travel advisories were issued for Niagara, Genesee, and Orleans counties. Poloncarz warned that a ban could be enforced in those areas "very soon."
'Substantial disruptions' may delay holiday packages, FedEx says
Severe winter weather at FedEx's Memphis and Indianapolis hubs Thursday night caused "substantial disruptions" that could delay holiday packages, the company said Friday.
It warned that the storm has resulted in the potential for delays across the country for packages scheduled for delivery on Friday as well as on Saturday, Christmas Eve.
"We recognize the importance of deliveries this holiday weekend, and we are implementing contingency measures where it is safe and possible to do so," FedEx said in a statement. "The safety of all FedEx team members remains our top priority as we take actions to lessen any impact on service."
More than 3,500 flights were canceled and another 2,421 were delayed
More than 3,500 flights within, into or out of the United States were canceled as of Friday morning. Another 2,421 were delayed, according to FlightAware.com.
Slick, icy runways and high winds seemed to be a major issue for several airports. Seattle-Tacoma International Airport tweeted Friday morning that its runways were closed indefinitely "as we continue to work to de-ice the surfaces." Chicago's O'Hare International Airport and Midway International Airport said that airlines pre-emptively canceled more than 200 flights at both locations because wind gusts were expected to reach up to 50 mph.
While this is sure to put a damper on holiday travel plans, the number of delays has dropped significantly. According to FlightAware.com, over 11,000 flights within, into or out of the U.S. were delayed Thursday. More than 2,600 were canceled.
More than 1 million customers across the U.S. are without power
More than 1 million customers were without power across the country Friday morning as strong winds and other extreme weather from the winter storm wreaked havoc.
The outages were affecting 1,074,899 U.S. customers as of about 10 a.m. ET, according to poweroutage.us, across a large swath of the country.
Among the states with the highest number of customers left in the dark were North Carolina, with more than 120,000 customers powerless; Connecticut, with more than 104,000 outages; and Texas, with more than 82,000 outages.
Storm reaches bomb cyclone criteria with wind gusts higher than 45 to 55 mph
The massive storm system traveling across the country has reached bomb cyclone criteria with cities like Boston, Chicago, New York City and Atlanta seeing wind gusts higher than 45 to 55 mph. The strong gusts have already caused thousands of flight cancellations and delays. Hundreds of people woke up this morning to no power, with more outages expected throughout Friday. 
Currently, more than 170 million people across the U.S. are under wind chill alerts. Forecasters said 86 million are under winter alerts.
The storm is also bringing an arctic front and flash-freeze cold to certain areas, causing temperatures to drop quickly. This could result in wet roadways and surfaces turning into a sheet of ice. The arctic front could cause brief bursts of snow as it moves through the northeast. Areas such as Buffalo, New York, could see snow totals as high as 2 to 4 feet. The snow combined with wind gusts up to 75 mph could cause blizzard-like conditions in the area. Forecasters said it could compare to the blizzard of 1985, one of the worst in the region.
Travelers and pedestrians brave bitter cold and snow
Secretary Buttigieg: Travel will be rough for next couple of days
Relief in sight for northern Rockies and High Plains
Relief from the deep freeze is in sight for the northern Rockies and High Plains where the arctic blast first materialized, the National Weather Service said.
Temperatures in parts of those regions could rebound by 40 to 60 degrees over the weekend as the cold air mass creeps farther east.
Huge waves forecast for Lake Erie
Waves over 20 feet tall are forecast for Lake Erie, forecasters from the National Oceanic and Atmospheric Administration Great Lakes Environmental Research Laboratory said in a tweet Friday.
Wind gusts of 50-60mph will produce a "seiche," an underwater wave that swings back and forth in a body of water, it said, adding that the highest waves will likely be 6 feet taller than the highest waves recorded on the lake during Hurricane Sandy.
The waves will affect areas of the lake between Toledo, Ohio and Buffalo, New York.
Water can continue to swing back and forth for several days, the agency said, although it added the largest waves are likely to be offshore.
Tens of thousands left without power
Almost 274,000 customers were left without power overnight, according to data from the website poweroutage.us.
In Georgia, 116,060 people were without power early Friday, with 74,643 in Texas, 30,839 in Alabama, 30,386 in Tennessee and 21,854 in New York, the website reported.
More than 10,000 power cuts were also reported in Washington, Oregon, Missouri, Kentucky, and Ohio, it said.
The weight of falling snow alongside high winds damages to power lines, whilst extreme cold temperatures causes them to stiffen and become more vulnerable.
Flash freeze forecast for Buffalo
WestJet cancels all flights from Toronto Pearson International Airport
WestJet has canceled all flights in and out of Toronto Pearson International Airport on Friday because of "a significant winter storm system."
No flights will take off from 9 a.m. until the end of the day "with a restart dependent on weather conditions by Saturday," the airline said in a statement.
Diederik Pen, WestJet's chief operations officer, apologized for the disruption in a statement. "Our teams on the ground, in the air and behind the scenes are working tirelessly to recover our operations, while trying to limit further disruption to important holiday travel plans," he said.
Storm makes a mess of holiday travel
Southeast to face wind chills of 5 or 0 degrees
The city of Charleston, South Carolina, was among those opening warming centers as the southeastern U.S. braced for wind chill values as low as 0 degrees.
A swath of the South and the Southeast, including Georgia and the Carolinas, will be under wind chill advisories starting Friday.
In Charleston, warming centers have been opened for people to get out of the cold.
On Saturday, the temperatures are expected to approach an all-time low for Dec. 24 that was set in 1989, when the city's airport recorded 16 degrees, said Douglas Berry, a meteorologist at the National Weather Service in Charleston.
More than 1,200 Friday flights scrubbed
More than 1,250 flights scheduled for Friday have been canceled in Midwest or East Coast states amid a major winter storm, according to a flight-tracking site.
Some airports have already been battered by the storm, such as Chicago's, and flights in other parts of the country have been canceled ahead of the anticipated cold temperatures and high winds.
More than 430 flights to or from Chicago's O'Hare and Midway airports scheduled for Friday have been canceled, according to the website FlightAware.com.
LaGuardia Airport in New York City had a combined 308, Detroit Metropolitan Wayne County Airport had 293, and Boston Logan International Airport had 207, according to the site.
Read the full article
here