Politics
Biden's birthday prompts debate about age, wisdom and the mature president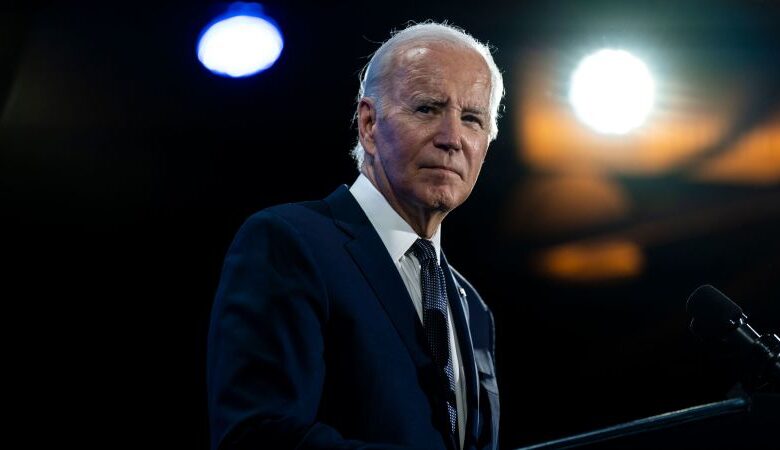 President Joe Biden is marking his 81st birthday milestone Monday with a low-key family celebration as he braces for a strenuous election year ahead.
But even as the first family keeps the celebrations muted and out-of-sight, the moment nevertheless highlights his greatest campaign liability – his advanced age and, along with it, perceptions among voters that his physical and mental fitness have declined.
Officials at the White House and the campaign privately acknowledge it's an issue, and they work both to eliminate potential gaffes and project vigor. Biden was prescribed custom orthotics to help with his feet this year, after his annual physical determined that he experiences a "stiff gait." In recent months, when Biden flies on Air Force One, he has started using a smaller, shorter set of stairs more frequently to board and deplane.
Biden has also made an effort to pass reporters on bike rides during vacations in Delaware, occasionally stopping to take questions while clad in his helmet. (The president is an avid user of Peloton at the White House.)
Still, the age liability comes into sharper focus almost by the day. A spate of recent polling, including a new CNN poll, indicates it's a chronic issue with voters. And critics raise it every chance they get. On Saturday, former President Donald Trump, the front-runner for the GOP nomination, called Biden "a stupid person" who "can't get off this stage … by the time whatever it is he's taking wears off," prompting cheers from a crowd in Fort Dodge, Iowa. On Sunday, Florida Gov. Ron DeSantis, 45, remarked that "Father Time is undefeated," naming age as an issue for both Biden and Trump, 77, in an interview with CNN's Jake Tapper.
Biden already is the oldest president in history, ahead of Ronald Reagan, who was 77 at the end of his second term. If elected in 2024, Biden would be 86 at the end of his second term. Trump, who would be approaching 83 at the same point, would take the baton for oldest president in history if elected.
Biden advisers argue – and grumble – that there's a double standard, with media coverage more focused on Biden's age than Trump's. Still, they insist that voters are focused on other issues and that age won't be a deciding factor next November.
"I don't think the campaign should be focused on anything but the winning record," said Democratic Rep. Robert Garcia of California, a member of the Biden campaign's national advisory board. "Everything else about people's biographies or when their birthdays are – that doesn't matter. People want to know, what did they do, and what are they going to do?"
On Monday, Biden's birthday milestone will pass with little fanfare. His day is set to include the time-honored pre-Thanksgiving tradition of the annual turkey pardon. He is also expected to receive briefings from his national security advisers on global crises.
The campaign isn't ignoring Biden's birthday, aides told CNN. A Democratic National Committee official tells CNN there are plans to commemorate the occasion with a post to social media, as the party has done every year since 2011, except in the three years when he was a candidate or prospective candidate.
The Democratic Congressional Campaign Committee is also urging supporters to sign a virtual birthday card for the president.
Biden and Trump both try to finesse the question of age

The former president, who has openly criticized Biden on just about everything, has shown unusual restraint when it comes to directly attacking the president's age.
It's a topic of sensitivity for both men, and Trump seems aware of the perils of contrasting himself with Biden over their exact age difference – which is three years and five months. In a recent interview, Trump avoided attacking Biden's age directly.
"He's not too old, he's incompetent," Trump told Megyn Kelly in an interview on her eponymous Sirius XM show last month.
"Age is interesting because some people are very sharp and some people do lose it, but you lose it at 40 and 50 also," he went on. "But no, he's not too old at all. He's grossly incompetent."
In turn, the Biden campaign has begun to signal it's not afraid to go there, too.
"Is Donald Trump okay?" an official Biden campaign account said in a post to social media platform X earlier this month. It featured a mash-up video of Trump gaffes, including confusing the city he was in, calling former President Barack Obama his "leading political opponent" and mixing up the home country of Hungarian Prime Minister Viktor Orbán.
For his own part, Biden sometimes laughs off his age.
"I don't look it, but I'm 180 years old. I've been around a long time," he joked to donors at a recent fundraiser.
But mostly, he and other officials frame his age as a source of wisdom and experience.
"I have more experience than any president has in the history of the United States," he said at another fundraiser. "One of the things that comes with age, hopefully, is wisdom."
John Kirby, the National Security Council coordinator for strategic communications,  suggested that Biden's experience – particularly in the foreign policy realm – is a positive.
"I've never seen the world more turbulent, and at a time like this, when things are as turbulent and uncertain and in some cases – frightening – as they are right now, you want somebody at the helm who has seen the world, who has developed the relationships with world leaders, who has experienced problems akin to these over and over and over again, and who understands the history behind where we are today," Kirby told CNN.
Biden "brings to the foreign policy helm a steady hand and wisdom and experience," Kirby said. "That is irreplaceable."
White House aides also point to the president's capacity to participate in strenuous trips and high-stakes meetings with world leaders as evidence of his stamina. He often leaves his colleagues exhausted, they say.
Kirby pointed to instances of Biden pressing his colleagues to add events or engagements to jam-packed schedules. He added a call with the Emir of Qatar Friday morning ahead of meetings at the APEC summit in California. He also added an impromptu gaggle with reporters on Air Force One following a grueling trip to Tel Aviv, Israel, last month.
Polling woes and 'Father Time'

Polls show the question persists. In an August AP-NORC Poll, 77% of respondents agreed with the assessment that Biden is too old to effectively serve another four-year term as president, while 51% of respondents said the same of Trump.
In a national CNN poll conducted by SSRS earlier this month, just 25% of registered voters say Biden has the stamina and sharpness to serve effectively as president, while 53% feel Trump does.
And in the newer CNN poll, conducted by the University of New Hampshire, 56% of likely Democratic voters in the Granite State mentioned the president's age when asked to name their biggest concern about Biden as a candidate.
When New Hampshire adults more broadly were polled on a list of the candidates' personal attributes, Trump fared worse on each (temperament, honesty and integrity, policy positions, decision-making abilities) than Biden – except physical and mental fitness.
A majority of voters – 58% – offered a poor assessment of Biden's physical and mental fitness, compared with 53% who gave Trump poor marks. Still, those numbers reflect clear concerns from voters on the issue for both candidates.
There is, of course, the possibility that Biden could square off with a different opponent in the general election. Former South Carolina Gov. Nikki Haley, who is in second place in the New Hampshire GOP primary poll, has proposed "mandatory mental competency tests for politicians over 75 years old."
The president's age is often one of the first topics to come up in conversations with young voters – often as a subject of questions about whether he's up to the job.
"I don't want to say it's his age alone that could be a deterrent for young voters," said Kerry Singleton, a senior at Morehouse College in Atlanta. "I will say it's the delivery on the promises that were given to a lot of the young voters."
Rachael Carroll, who graduated last year from Clark Atlanta University, said she believes Biden is from another era, where he doesn't understand the progressive views of many Democratic voters.
"No offense, but yes, it's a little old to me," Carroll said, adding that Trump's age should be of equal concern to Americans. "They don't understand what we're going through now because we're living in two completely different times."
Nabilah Islam Parkes, who last fall became the youngest woman elected to the Georgia state Senate, said she doesn't believe age is the overriding concern about Biden. She said questions about the administration's handling of the Middle East – and his worldview – are far more pressing.
"As long as we feel like he reflects our values," she said, "age shouldn't be an issue."
And progressive groups working to mobilize young voters said that they do not think Biden's age will ultimately be a significant factor in whether young voters show up for him at the polls.
"It's so low on the list of things we think about it and things that are actually impacting our lives," said Jack Lobel, national press secretary for Voters of Tomorrow, an organization that focuses on Gen Z voters. "It's not a primary concern."
CNN's Jeff Zeleny, Camila DeChalus, Kristen Holmes, and Arlette Saenz contributed to this report. 
Read the author's full story
here
Get Best News and Web Services here