Politics
Going to food banks. Canceling after-school activities. How federal workers will manage a government shutdown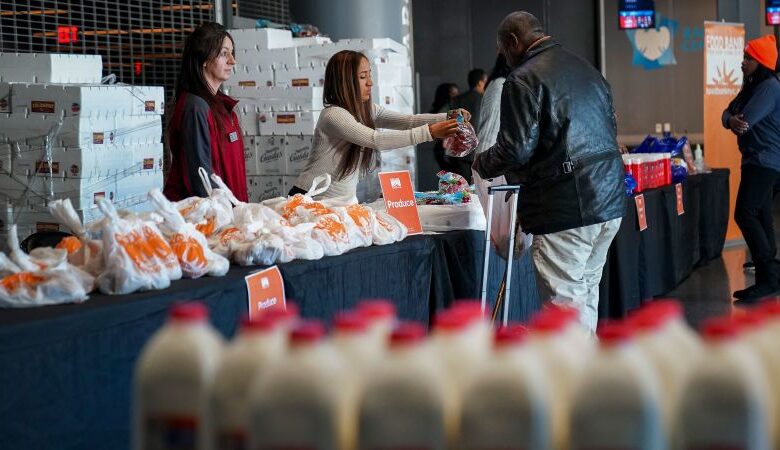 The last time the federal government shut down five years ago, Jesse Santiago found himself standing in line at his local food bank, rationing medication and falling behind on his mortgage payments, which ultimately cost him his home.
Santiago, who has worked as a Transportation Security Administration officer at Houston's airport since 2002, likes his job and takes pride in keeping Americans safe when they fly. But he's outraged that Congress once again is on the brink of letting the federal government shut down, throwing him and his fellow federal workers into financial and emotional chaos.
"Imagine serving the American people only to have to beg for food," said Santiago, who lives with his husband in Cleveland, Texas, and has started stocking up on canned beans and other nonperishable food in case this impasse drags out. "I refuse to stand in food lines again while working for the federal government."
Santiago is among several million federal employees who will stop being paid if lawmakers cannot agree on funding the federal agencies by the start of the coming fiscal year on October 1. Some, like Santiago, are considered essential workers and have to go to work regardless. Others will be furloughed until Congress passes a spending package, which took more than a month during the 2018-19 shutdown.
Hundreds of people wrote to CNN to express their views about the looming shutdown. Several said they were concerned about taking trips to national parks, including a bride-to-be who is holding her wedding at one in mid-October, while many senior citizens said they were terrified they wouldn't get their monthly Social Security checks. (In fact, Social Security payments continue during shutdowns.)
Some charitable organizations are already offering to help federal workers get through their payless period. Earlier this week, chef Jose Andres said his World Central Kitchen restaurants in Washington, DC, would provide food to federal employees during a shutdown, as they did during the previous impasse.
Among the hardest hit by government shutdowns are federal employees, who won't get paid until Congress funds their agencies, and federal contractors, who don't receive back pay. Many wrote of the toll the last shutdown – the longest on record – took on them and their concerns that they and their families will likely have to go through this again.
For Carrie Martin, who works in the finance department of the National Institutes of Health, potentially losing her paycheck comes at a tough time. Not only is she shelling out more for groceries, rent and other essentials because of inflation, but she'll have to start making student loan payments of a little more than $700 a month in October.
"Not knowing when I will get my next paycheck is very stressful considering I am living paycheck to paycheck," said Martin, who earned a master's in health administration degree from George Washington University this spring. "Adding student loans back into my bills is making it 10 times worse."
Plus, she said it's difficult to work under such uncertain conditions. She and her colleagues have been putting in extra hours preparing for the end of the current fiscal year and the start of the next one.
"Preparing for something that may not happen takes a lot of energy out of you," said Martin, who is also still adjusting to living on one income after her wife passed away last year.
Other federal workers are already planning to cut back their spending.
Nicole, a federal law enforcement officer in southern Missouri, said she won't be able to throw a party for her 6-year-old son whose birthday is in early October. She had hoped to invite a dozen or so children since he just entered kindergarten and is starting to make friends. Instead, her son will just have cake and presents at home with his parents, grandparents and younger brother.
"I'll probably feel more sad than he will," said Nicole, who did not want her last name used because of the nature of her job. "I don't want to tap into my savings and not pay my bills."
Even though her husband will continue to be paid since he works in the restaurant industry, Nicole said the family will have to make sacrifices, including not signing up her older son for after-school activities, such as basketball and painting. And they'll skip going to fall festivals in their area.
During the last shutdown, they bought fewer groceries, reduced their cable plan and paid a decent amount of late fees on bills. Plus, they had to take out a loan from their local credit union, though at least they didn't have to pay interest on it.
"That was probably one of the worst things we've been through," said Nicole, who still has to report to work during a shutdown.
The stress from the 2013 impasse prompted Rob, who was a federal police officer in Washington, DC, at the time, to leave federal service. He had to work long shifts without knowing when he'd see his next paycheck.
A decade later, Rob decided to return to the federal workforce so he could get a better-paying job than the one he has working security at a local retailer. He is currently behind on his rent and car payments and depends on food stamps to feed his family, including his 4-year-old daughter.
Just last week, he accepted a position as a police officer at a Veterans Health Administration hospital with a tentative start date of November 5. But if the government shuts down, he fears his paperwork and medical reviews will be delayed so he'll have to wait longer to begin the job he desperately needs.
"This was a light at the end of the tunnel for us," said Rob, who now lives outside of Boston and did not want his last name used for fear of losing his job offer. "I just want to work. I just want to serve my country, do my job."
Many federal contractors, meanwhile, are gearing up to give up their paychecks completely until Congress resolves the impasse.
Theresa Springer of Pittsburgh is a senior consultant for a small management consulting firm that works with various federal agencies. During the last shutdown, she and her coworkers were able to take paid time off, so her income didn't suffer even though it cost her employer hundreds of thousands of dollars. The company is making the same offer again this year, giving her around two weeks of breathing room before she stops being paid.
Though Springer said she has the savings to get her through, she will have to watch her spending and may have to delay some purchases if there is a shutdown. Regardless, she's irritated at lawmakers' inability to govern and thinks they should forgo their paychecks.
"My emergency fund is for emergencies, not for the federal government not being able to get their act together," she said.
The situation is also tough for small businesses that depend on federal employees, like Sue Doyle's Home Sweet Home Cleaning Services in Columbia, Maryland. Between 10% and 20% of her clients work for the government, and many cancel their appointments during shutdowns.
Not only does that hurt her income, it cuts into the earnings of her seven employees. Doyle tries not to lay anyone off, opting instead to reduce all of their schedules. While most understand, they are frustrated because they also have bills to pay, she said.
"A shutdown has a trickle-down consequence," said Doyle, who is already talking to a bank about a business loan so she can cover her expenses during the impasse. "Hopefully, my employees won't have more than one day off a week."
Read the author's full story
here
Get Best News and Web Services here