Sports
Chandler Jones says he was 'hacked' after bizarre Raiders child molestation accusation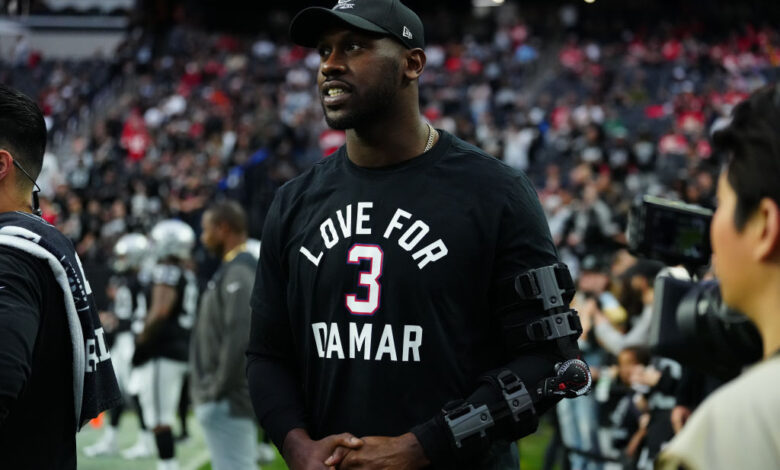 Star Raiders pass rusher Chandler Jones is claiming he was hacked after a bizarre tweet spree Sunday morning alleging that he has been barred from the team facility because owner Mark Davis is harboring secrets about child molestation.
"Sorry for the mix up. I was hacked. Please forgive me," Jones tweeted on Monday.
Sunday, before Jones missed his second straight game for the Raiders, a 38-10 loss to the Bills, a series of posts emerged from his account.
"I wish I could play with my brothers, but marky mark is holding a huge secret that only I know!" Jones began a series of tweets that have since been deleted but were covered by the Daily Mail.
"That's why I was asking for my protection sorry if I sound scared because I'm not lol, when I found out I was lol
"[Mark Davis] didn't know I didn't have any kids and I was fostering a very important man's kid, I won't say his name. But once I found out what was done to this little girl I wasn't allowed back in the building."
He continued to make inflammatory allegations.
"Now you taking money out of my pocket, here I am watching my team lose because. someone was molesting my God daughter," Jones wrote.
"You can call me whatever you want, CTE, a dumb football player, dumb black man.. whatever y'all want, keyboard warriors. Meanwhile our children are getting molested. That's why I couldn't get a sack today. Because ppl wanted to [rape] my step daughter and not expect me to get upset."
Earlier this month, Jones went on a rant on Instagram in which he appeared to be claiming that he had been locked out of the team's gym when he wanted to work out.
Jones, 33, joined the Raiders before last season after playing four years with the Patriots and six with the Cardinals.
Read the author's full story
here
Get Best News and Web Services here