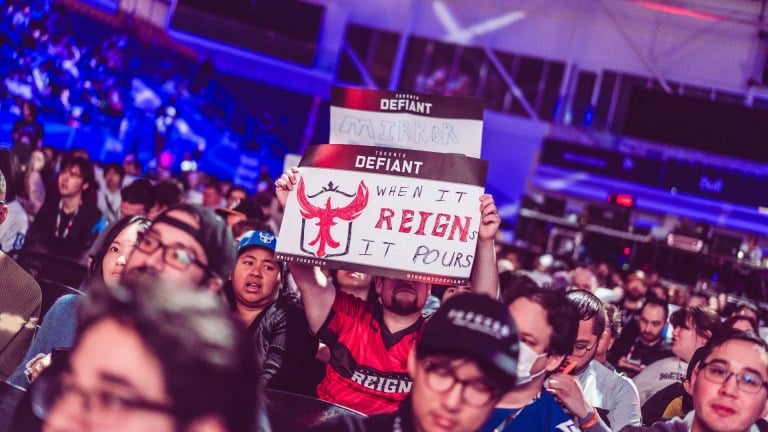 With the change of rules from 2022 to 2023 allowing younger players to join the Overwatch League, 17-year-olds are now making their debut across both divisions. While one had the weight of the world on his young shoulders, he was able to play tank and lead his team to the top seed, earning the Alarm Rookie of the Year award.
Atlanta Reign tank Kim "D0NGHAK" Min-sung is the OWL 2023 Alarm Rookie of the Year, thanks to his flexibility and teamwork alongside his talented teammates to help the team dominate the regular season and win the Midseason Madness title. This marks the first 17-year-old award winner in OWL history, and it's hard to argue with the result.
A bittersweet end to D0NGHAK's amazing year
D0NGHAK made his mark in 2023 on two key heroes, Winston and Wrecking Ball. Coordinating as a rookie alongside the experienced teammates that Atlanta Reign picked up and trying to match their championship desires was no easy feat, but D0NGHAK did just that. 
There was a bit of a bittersweet feel to the award, though, as the Atlanta Reign ended up falling out of the tournament first, and it showed in how D0NGHAK apologized for his performance earlier in the tournament. It was tough to watch how losing two times in a row at the worst possible time overwhelmed the player who got his team to that top seed in the first place. 
The crowd cheered every time they could, knowing how deserving he was of the award. It might take some time for the player to recover from their early departure from Toronto, but their work over the year didn't go unacknowledged.
Gunba wins Coach of the Year for OWL 2023
Just before D0NGHAK was announced as Alarm Rookie of the Year, Florida Mayhem coach Jordan "Gunba" Graham was revealed as Coach of the Year for 2023. Much like the other major award of the day, this was well deserved, as the Florida Mayhem ended up one of the best teams across the entire year despite not many expecting so as the year began.
Thanks to the extreme flexibility of their main tank Ham "SOMEONE" Jeong-wan, and the great integration of two new teammates, Sung "CH0R0NG" Yoo-min and Choi "MER1T" Tae-min, Gunba was always able to have his team adapt to their mistakes and lead them to great performances both regionally and internationally. Some of these finishes include the surprise win at the Pro-Am tournament to start the season and a third-place finish at the Midseason Madness.
On Day 3 of the OWL 2023 playoffs, the Mayhem have already secured their spot in the Grand Finals stage, guaranteeing a spot in the top four once again. Considering the meta shift, Gunba once again kept his team ahead of the curve.
About the author
Read the author's full story
here
Get Best News and Web Services here